KEEPTIME LAB IS A 360-DEGREE ASSISTANCE CENTER AND OUR PRIORITY IS CERTAINLY TO SATISFY EVERY TYPE OF NEED, MAKING USE OF A PROFESSIONAL AND EFFECTIVE OPERATING PROGRAM, CUTTING-EDGE MACHINERY AND LATEST GENERATION PRECISION INSTRUMENTS.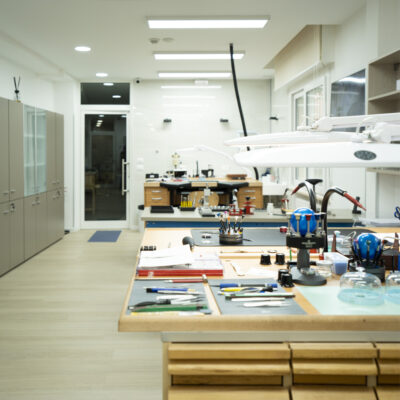 Thanks to the skill and expertise of our qualified professional technicians, maintenance and overhaul operations are carried out which aim to take care of, preserve and give new life to the movement of your timepiece.
In our laboratory, we only use original and certified spare parts and components from the most prestigious Swiss watchmaking houses.
Before proceeding with the overhaul, our professionals will carry out a meticulous and detailed diagnosis of the case, bracelet and movement of your watch, so as to define the necessary interventions;
Follows an estimate aimed at a personalized intervention, where the relative delivery times are also estimated;
Once the estimate has been accepted, our professional can proceed with the disassembly of the watch, where the bracelet is separated from the case. The case is then opened, the movement is removed, and then it is completely disassembled as well.
The movement is also disassembled and each component is thoroughly ultrasonically cleaned. During reassembly, the movement components are first carefully lubricated in order to minimize friction and prevent wear. This operation will ensure perfect and more precise functioning of the watch.
Obviously, worn or damaged parts are replaced with original spare parts from their own Maisons.
Once the work is completed, further quality controls are carried out, including checking the power reserve on the chrono-comparator and waterproofing tests, if the watch in question obviously has the necessary conditions;
Finally, to ensure the precision of the watch, a meticulous adjustment will be carried out, through electronic tests with special instruments. To guarantee the optimal functioning of the movement, a series of rigorous diagnostic checks will be carried out in the following days.
Upon return of the watch, fully functional and restored to its former sheen, a guarantee is issued for the intervention valid for 24 months, without prejudice to the offer of future technical support/assistance for any other eventuality that may occur.
This warranty does not apply to damages or deterioration caused by accident or misuse of the watch.
F.A.Q. (Frequently Asked Questions)
How often should a review be performed? What's the best way to protect and preserve your watch?
For correct functioning of your watch, KeepTime Lab recommends a periodic maintenance/overhaul at least every 3-4 years. In this way your timepiece will preserve its functions and performances for a longer lasting time.
But if you have any doubts, do not hesitate to contact us! We will be glad to offer you the necessary support and assistance, even for informational purposes only.
What if you can't reach us at our office?
No problem! We take care of everything: we carry out the collection and following shipment of your watch from your home address – even all over the world – in "express" and insured mode.